Our 2014 Clothing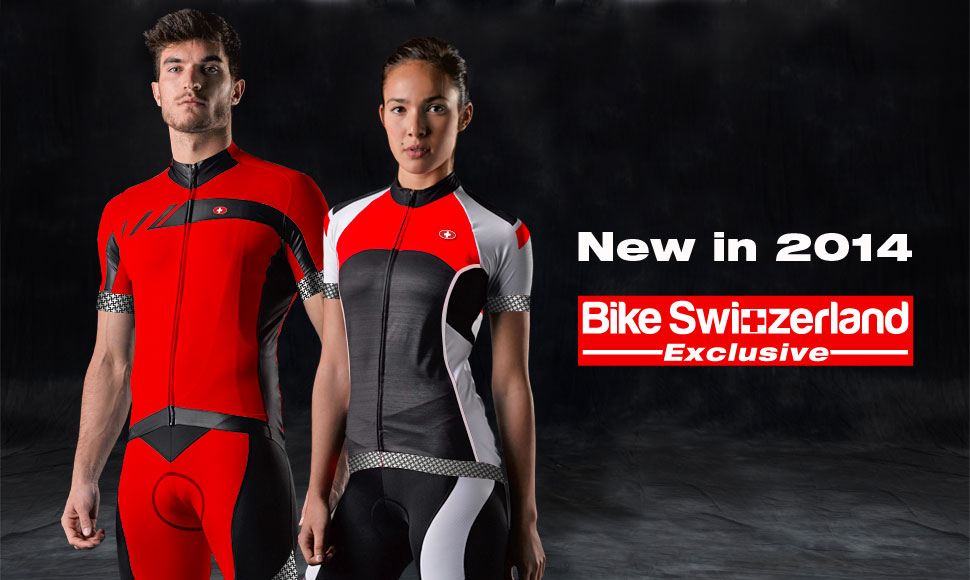 Our 2014 line is now on the website.
This year we're introducing two new jerseys: The Ascona and the Monte Rosa along with two new pairs of shorts, some vests and a new rain jacket.
As always, all of our clothing is cut and stitched by our friends at Giessegi sportswear in Castel Franco, Italy.
We did get a rather late start with our order this year. As a result, the products are not going to ship until May 26th.
However, to make up for that, we're giving taking 10 to 20 francs off of each item that is pre-ordered before May 21st, so there is a real reason to order now.
How is our shop different ? New podcast…
The Bike Switzerland shop is different from other shops in some fundamental ways.
We wanted to get this across to people through a podcast, but figured that people would get bored if I just sat there and talked about the shop for five minutes.
So, I wrote a script and hired an artist to animate some scenes showing "bad bike shops". I would then talk about how we're different.
That was still boring.
I considered turning myself into a cartoon, but then found Harold and hired him to impersonate me !
He's a bit green and has less hair, but we do have the same smile.
Bike Switzerland Accessories on sale
Every year we help hundreds of people bike through Switzerland with our tours and rentals.
So of course, there are certain things that we have to stock: handlebar bags, saddle bags, bottles, bottle cages, etcetera.
Rather than continue buying all of hese products from our distributers, we decided to go straight to the manufacturer and have the products branded "Bike Switzerland".
This year, we're offering these items for sale to the general public and you can find them all on this page of bikeshopswitzerland.com.
Club rides every Thursday and Saturday
Our club rides began a few weeks ago.
The rides have been well-attended and we plan on keeping them going until at least the end of September, and possibly even into October.
These rides are especially meant for beginners looking to improve their cycling performance.
That said, these are not slow leisurely rides that you can do on a hybrid.
All riders are expected to have road bikes and to keep an average pace of at least 25 kmph.
Rides are every Thursday evening from the shop beginning at 18h15 and also every Saturday morning from the shop leaving at 9:30
We'll do our best to post a ride description on our event calendar.
If the weather is bad or looks to be bad, then we will announce cancellations on the same calendar.