New Rentals Website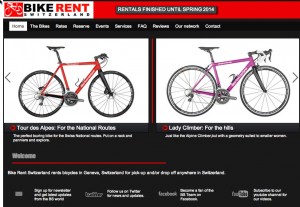 We have updated bikeswitzerlandrentals.com to include our new range of 2014 bikes. We've expanded our selection of bikes this year to include:
Bike Switzerland Tour des Alpes (touring)

Bike Switzerland Alpine Climber (road)

Bike Switzerland Alpine Climber Lady (road)

Felt F75 (aluminum road)

Felt Z4 (Carbon road)

Kona Rove (Steel touring)

Kona Hei Hei (full-suspension)
So you've got more than double the choice from last year ! …and our prices are the same.
Rent a Bike Anywhere in Switzerland?
Yeah, it's possible.True, our shop is in Geneva, but we're able to send you a bike to most any town or city in Switzerland. We made a new podcast explaining how we manage that. I hope you can take a look.
Sign up for a tour, and load up on calories.
Thinking about doing a tour with us, but still on the fence ? Sign up for any guided or independent trip before March 8th, and we'll treat you to a full-course "All-you-care-to-eat" meal at our favorite local restaurant.
Of course there are loads of restaurants in Geneva and it's tough for a tourist to know where to go, so we'd like to set you up for a "sure thing" by taking you to our local hang-out: L'Academia.
Here's what you'll be eating ! (click for PDF)
Shop opens March 11th
It's been a long (MILD) winter and it's time for us to stretch our legs, scratch our behinds and get back to work.
We'll open for sales beginning March 11th with the following store hours:
Monday: Closed
Tuesday – Friday: 10 – 6:30pm
Saturday: 9 – 6pm
Sunday: Closed
Note: Although closed on Monday and Sunday, we'll be open for rentals by appointment.