New Rentals Website
Our new rentals website is now up and running here: www.bikeswitzerlandrentals.com
Whether you're now at home or out and about with your cellphone, get on line and take a look. Everytrhing is compatibile with your phone or tablet.
As mentioned, we're almost all TREK in 2015: Emonda, Domane, Lexa….we've got them all and your size…whether you're a giant or leprechaun.
But you'll still find our Tour des Alpes hybrid and E-Speed electric bike for rent. Reserve your rental now until March 10th and we'll make sure you've got two free water bottles on your bike.
We're open !
We'll be in the shop and open from Monday, March 2nd at 10am.
So, if you stop in for a service early in the week, we'll have it to you for the weekend.
Our regular 2015 opening hours will be as follows: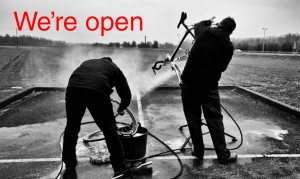 Tuesday – Friday: 10am to 6pm
Saturday: 9am to 6pm
Sunday & Monday: Closed
Of course, if you're needing to pick up or return a rental on Sunday or Monday, let us know and we'll make arrangements.
And if you've never been to the shop, you can find us here.
Don't bother going to France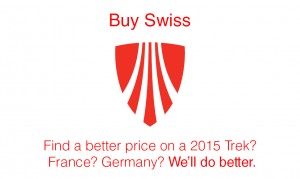 The Swiss economy took a hit back in January when the Swiss National Bank stopped pegging the Swiss franc to the Euro.
There were some dark days, but we've been working hard to turn that around in the following way.
Starting today: if you find a better price on a 2015 Trek in Switzerland, France or Germany, we'll match it.
So, if it's a TREK you're after, absolutely no need to leave Geneva. See what we've got here by clicking here.
It's Prime Time
Here's our new 2015 Bike Switzerland PRIME jersey. They'll be in the shop the last week of April.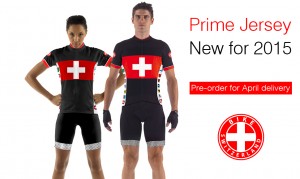 Otherwise, if you'd like to make sure we don't run out AND save around 15%, then please make a pre-order now.
You'll find the mens' jerseys here and the womens' jerseys here.
We're also re-ordering the following: Helvetia Jersey, Bernina bibs and shorts, Elite bibs, Monte Rosa jersey, arm and leg warmers.
So, if we've run out of your size, we'll soon have them back.
Sit on it, Rent it, Ride it
If you're shopping for a chair, you sit in it. You take a car for a test-drive before purchasing. You're not going to buy a Rolex before trying it on.
We think it should be the same way with any bike you buy.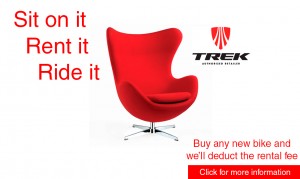 At our shop, we let you do more than tap the frame. We'll give you a helmet and send you out for a spin.
Or, even better, rent it. Then come out with us on our Saturday ride or keep the bike for a long weekend.
Make sure you love the bike before you drop serious money.
Then if you buy ANY new bike from us, we'll refund everything you've spent on the rental.
Our rides
Although there's still not enough sunlight for our Thursday night rides, we'll be starting on Saturday morning rides on March 7th.
We'll be meeting in front of the store at 22 Rue des Grottes at 10am.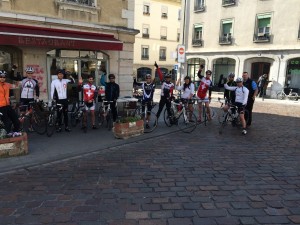 Alhtough these roadbike (only) rides are free and open to everyone, please be aware of the following:
We'll be riding at a moderate pace (25 kmph ) for 50-60 kilometers
Although there will be an ride leader each week, everyone is responsible for him/herself, so please make sure you're packing everything you need for a flat tire.
Cancellations due to rain or bad weather will be announced on the calendar at www.bikeswitzerlandrentals.com. See here.